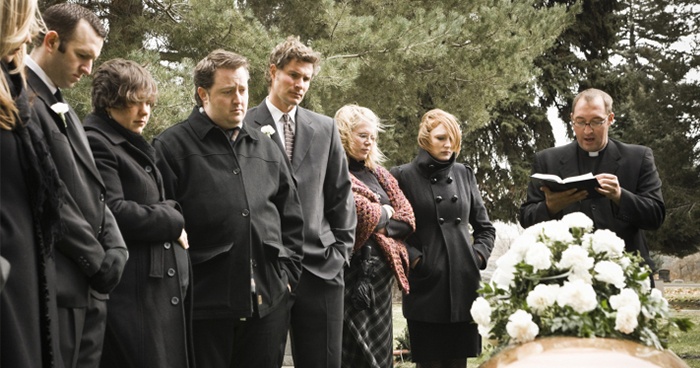 Sunday morning began with tragedy after the passing of 25-year-old Matthew Spring. The aspiring writer and recent New York transplant collided with a delivery truck while on his bicycle in Brooklyn's Bushwick neighborhood. The following week and friends and family gathered at the Nazarene Church in his hometown of Lebanon, Oregon to mourn him. Despite the continuous sobs of Mrs. Spring, most of Matthews friends in attendance were focused on the real tragedy at hand; the unexpected high school reunion.
All of Spring's former LHS classmates reported similar feelings of anguish and despair upon realizing they would be forced to reunite for the funeral services. When questioned, 26-year-old Allison Vick commented, "It's just so sudden, so unexpected – you think you have another three years and then BAM – Brianna Lawson from Chem is right there asking if you have a spare cigarette again."
Fellow 2010 graduate Molly Sanders expressed similar feelings, saying, "I haven't been able to stop thinking about it all week and I can't stop crying – to have to be in the same room as all these people with no notice, it's just awful."
Other members of Spring's graduating class pointed out that the setting of the unexpected reunion only added to the horror. "Never in my wildest dreams did I imagine the first time I'd be seeing these people would be in an alcohol-free environment," Sanders continued. Thankfully, most in attendance reportedly brought along a flask or arrived at the Nazarene church just as the edible kicked in.
When questioned by reporters, most in attendance expressed both their condolences to the Spring family, and anguish at the impossibility of turning around their appearance in the mere week between the death and the funeral. One classmate who wishes to remain anonymous stated, "When I saw that Matt had passed on Facebook, I started an all cabbage soup diet that day – at least we all look like crap."
Despite the trepidation from the bulk of the 2010 class, Matthew was put to rest with dignity and grace. His former girlfriend Sarah Perrault started the service with a performance of Amazing Grace. "She has a truly amazing voice," Alison Vick commented. "Also, she used to be really hot – like, makes you sad to look at her hot – and let's just say the years haven't been great to her. So that made us all feel a little better. And the singing, of course."
When interviewed, former Senior Class President Missy Timme reported that she would not move forward with plans for the ten-year reunion, because "once is fucking enough."