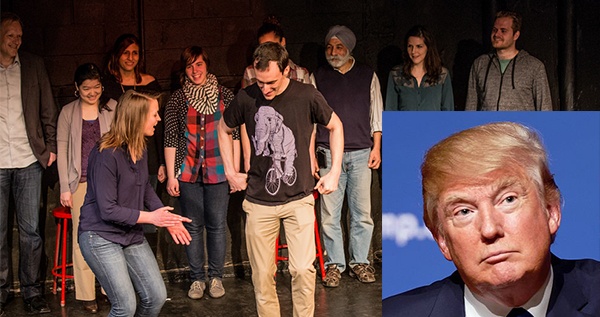 The members of The Button-Up Zippers, an improvisational comedy troupe based in Austin, TX, were forced to break their self-imposed ban on Donald-Trump-related jokes this past Saturday night when a paying audience demanded that they take "Donald Trump's Asshole" as a scene suggestion. The troupe was playing a private corporate gig at the annual Google office Octoberfest party when, according to troupe member Andy Wasserman, "All hell broke loose."
"We opened the show as we always do, by asking for a suggestion for a location," said Wasserman. "We always ask for a location because we want to make sure that the audience knows that we don't have the scene's setting pre-planned."
Wasserman went on to describe the incident. "Audience members shouted out stuff like 'A coffeeshop' or 'An airport' but when this giant meathead guy with a fork tattooed on his neck yelled 'Donald Trump's asshole'…"
All of the color seemed to drain from Wasserman's face.
"I have never heard an audience laugh that hard. Ever. I tried to ignore it by asking, 'Any other locations?' but the audience gave up and just started chanting 'Donald Trump's asshole! Donald Trump's asshole!' over and over and over again," Wasserman continued, tearfully.
"When we formed our troupe this past January, we all took a sacred oath to never do any jokes relating to Donald Trump. None of it is funny. None of it is a joke," said troupe member Marci Straight. "We had all agreed that if any one of us made a Trump joke during a rehearsal or a show, then that person would forfeit their privilege to be a Button-Up Zipperer."
Yet, when the audience laughed, Straight recalls looking at her fellow troupe mates onstage, which included Wasserman and Baron Galecki, and knowing they'd run out of options. "We all suddenly remembered that we were doing a paid gig. We had to give them what they wanted," she said. "The next thing I know, I'm hearing Andy saying 'When the lights come up, Donald Trump's asshole!' and the audience cheering as the theater blacked out."
"I was terrified, but I had to do something. Somebody had to do something." Recalls Straight. "So I just did the first thing that I thought of. I used my 'old southern lady' accent and just screamed, 'DONALD TRUMP'S ASSHOLE!'"
Straight then described the moments that followed. "The next thing I know, Andy is standing right next to me. His arms are up and over his head and he is screaming in a booming Japanese-accented baritone 'DONALD TRUMP'S ASSHOLE'."
"I knew that Andy and Marci had found the game of the scene. So I walked up to them, put my arms up over my head, and I yelled 'DONALD TRUMP'S ASSHOLE' in a Boston accent," said Galecki.
At that point, the lights went out and the scene was over. The lights rose again on the trio. Except this time, they were smiling and taking their bows.
"There was absolutely no reaction from the audience that I could hear but I didn't care. We weren't doing it for them. We did it for ourselves. We proved to each other that we could get through anything. We really can make anything funny. Nothing is off-limits provided that you do it in a way that doesn't hurt anyone. Marci and Baron are true heroes and I am honored to be a Button-Up Zipperer with them. There is absolutely nothing I would have changed about how we dealt with that," said Wasserman. "Absolutely nothing."
EDITOR'S NOTE: Wasserman contacted us some time after the interview in order to ask that we excise the mention of him doing a Japanese accent during the improv show but this request occurred after press time.