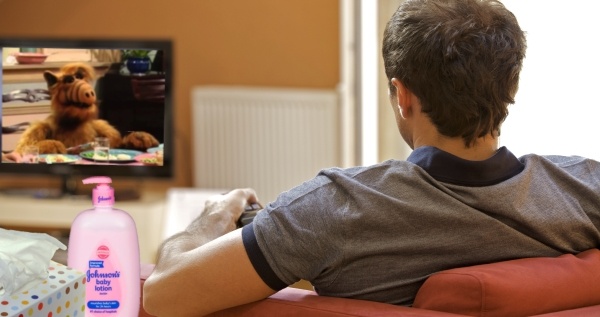 Jay Schwartz of Newport, Rhode Island experienced what he describes as a mixture of shame and accomplishment late Saturday night after successfully masturbating during an episode of ALF.
"I was smoking a bowl and watching reruns of ALF on TV Land," explains Schwartz, "And I kept laughing whenever someone said the dad's name – Willie – because, you know, Willie is another word for your dick. That made me think about my dick and I decided to try and jerk off while watching ALF."
Unfortunately, ALF – the '80s sitcom about a wise-cracking alien who causes mischief while living with a suburban family – isn't exactly renowned for its sex appeal. According to Schwartz, it wasn't an easy task, and the 32-year-old almost gave up several times.
"It was actually really hard, or rather it wasn't hard, I don't know. I had some false starts and one time I almost came but at the same moment ALF yelled 'I kill me!' and my boner just kind of like, imploded on itself."
Jay first tried to focus on Willie's wife, Kate, but had a hard time sustaining an erection thanks to the actress' hairstyle.
"Oh man, the chick who played Kate had this totally '80s mullet and it was really turning me off!" complained Schwartz. "Plus, those mom jeans, did all pants in the '80s come up to your tits?" Schwartz also attempted to avoid scenes starring the couple's teenage daughter, Lynn, stating "I might be masturbating to an anthropomorphic muppet, but I'm not a pervert!"
Schwartz persevered, however, and eventually succeeded in reaching orgasm, despite staring at a three-foot tall fur-covered puppet while doing so.
"I just kept tugging," said Schwartz, "Even when my wrist cramped up and I started to go soft, I didn't give up until I had a gym sock full of spunk and tears."
"This was definitely the most work I've ever had to put in to nut," Continued Schwartz. "I must have used close to a whole bottle of hand lotion and my dick is probably going to smell like lavender for a month but I finished and that's all that counts."
Completing the act made Schwartz feel both degraded and triumphant at the same time, a combination of emotions he had never experienced before that night.
"The closest thing I can compare it to is one time when my friend bet me that I couldn't eat seven Taco Bell Gorditas in one sitting. I was super stoked when I did it, but also I was dreading the symphony of diarrhea that I knew would be rocketing out of my colon later that day" explained Schwartz, "It made me feel kinda gross…but also kinda proud, you know? That's what masturbating to ALF is like!"