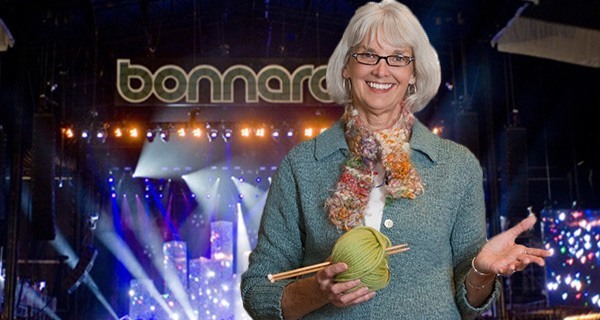 Boutique scarf vendor Jodi Kadner, 62, received news earlier this week that she will join Drake, The Weeknd and Fleetwood Mac as a headliner for the 2017 installment of popular music and arts festival, Bonnaroo.
The festival, which started in 2002 and is officially called "The Bonnaroo Music and Arts Festival," runs for four days every June on a 700 acre farm in Manchester, Tennessee. Performers such as Metallica, The Beastie Boys, Stevie Wonder and The Wu-Tang Clan have graced the Bonnaroo stage, but festival director Janson Skivvy wants more out of his festival.
"We realized that we're not living up to our brand as a music and arts festival. All our headliners satisfy the music component of the festival, but we're really falling short on the arts end. That's all about to change."
Skivvy and his partners at AC Entertainment have decided to get the ball rolling by adding Etsy store owner and mother of three Jodi Kadner to the mainstage list.
"We're absolutely thrilled at the opportunity to work with Kadner – we've been following her work for years and think she's the perfect addition to our starring lineup," reported Skivvy.
Kadner – who features hats, scarves, and mittens on her online store Knit Wits – is thrilled for the opportunity. "This is the kind of exposure a self-made artist only dreams of," said Kadner. "I got a small boost in business after offering a two-for-one deal on ponchos, but this is a whole new level."
Though some question how a retired third grade teacher is going to command the same stage presence as her predecessors, who include Jay Z and The Rolling Stones, Skivvy is confident Kadner won't have any problem.
"Have you seen Jodi cast off? She can do it in like three seconds – it's truly incredible" mused Skivvy.
"Besides, 95% of our attendees are tripping balls the entire time they're here. If they can enjoy three hours of Edward Sharpe and the Magnetic Zeros, they can enjoy anything."