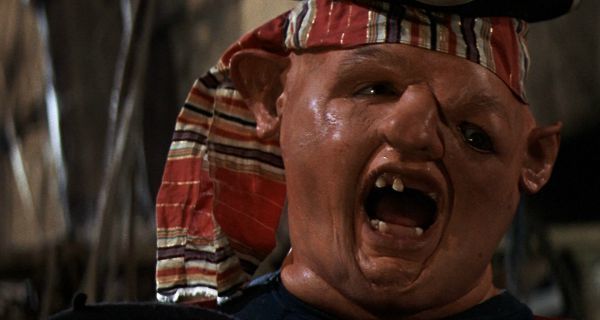 Knowing how to dress for your body when you're Sloth from The Goonies can be hard. There are just so many cuts and styles out there to choose from, and figuring out which are most flattering for you can be time-consuming at best and overwhelming at worst. But worry no more, because we've compiled this long-overdue guide for enhancing—but mostly hiding—your features as a malformed secret Fratelli brother.
1. Sideways Bangs
Sideways bangs are extremely flattering for your face shape if you're Sloth from The Goonies. They'll soften your features and draw attention away from your large, snout-like nose.
2. V-neck Blouses
V-neck blouses are another wardrobe staple for your hulking frame. They'll help to narrow your inhumanly strong back and shoulders.
3. Boot-Cut Jeans
These are an absolute must-have. The wide-leg cut will slim your muscular thighs and genitals, elongating your silhouette and giving the appearance of a slender, non-deformed physique. You won't want to wear anything else!
4. Hip Glasses
Nothing says "statement piece" like a bold pair of tortoise shell glasses! You'll not only be totally on trend, but the specs will help distract from your terrifyingly misshapen facial features.
5. A Smile
And of course, even the best, most flattering ensembles aren't complete without a smile. A lot of people say it's the very first thing they notice about a person. Just try not to open your mouth, because the three teeth you have will frighten them away.
So now that you're equipped with the best styles for your body type, go forth and be fierce this season, Sloth! But not too fierce. You're very strong and could easily kill a man.