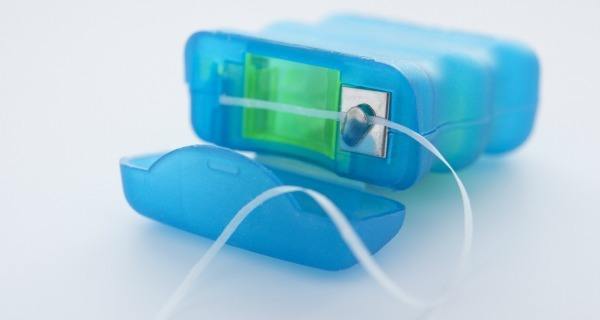 With a dentist appointment scheduled for 9:30 am tomorrow morning, a Buffalo, NY man will reveal the tiny case of dental floss hidden within his medicine cabinet.
Zachary Emmett, 37, purchased the package almost four years ago while on a layover at Newark Liberty International Airport. "I had popcorn in my teeth, but I almost didn't get it since it was so overpriced," recalls Emmett. "But then I was just like 'what the hell,' and I'm sure glad I did, because we ended up stalling on the runway for two hours and it would've been super annoying."
Preparing for a routine cleaning with his dentist the following morning, Emmett, who calls floss his "secret weapon," has relied on the little box of nylon string to avoid being shamed by his dentist, and also to avoid gum disease.
"We know everyone flosses the night before," says the staff of Dr. Ryan Worman.
The $4.99 box of Reach Mint Waxed Dental Floss will be joined by repertory players toothbrush, toothpaste, and Dixie cup full of water, who will support the tiny star on his big night. "I couldn't do what I do without everyone's help," floss says of the well-rounded cast.
Tonight's event will also serve as the much-awaited reunion between floss and its long-lost friend and colleague, mouthwash, who the tiny star of tonight's show hasn't shared the stage with since their performance in the "Wisdom Teeth Debacle of 2013."
"Floss and I worked side by side for almost two weeks," recalls the 33-ounce bottle of Wegmans brand Blue Mint Oral Rinse Mouthwash, purchased the same year.
Not everyone has taken kindly to the return of the modest star of tonight's show, however. "Yeah, I guess the little waxy string is something special if you're a fucking caveman," laments Emmet's Waterpik Ultra Water Flosser, an impulse purchase Emmet made during his self-proclaimed "juicing phase" in 2011. Noting that the Waterpik has only been used by Emmett twice since its purchase, toothbrush steps in to dismiss the jab, calling the device out as "just jealous."
When asked if floss has any plan to retire, Emmett maintains that a change as such is highly unlikely. "I'm guessing there's still a good 30 yards of string in that thing," he states, adding that he will probably hold onto floss until he runs out or moves out of his current apartment. "Whichever comes first," he says.