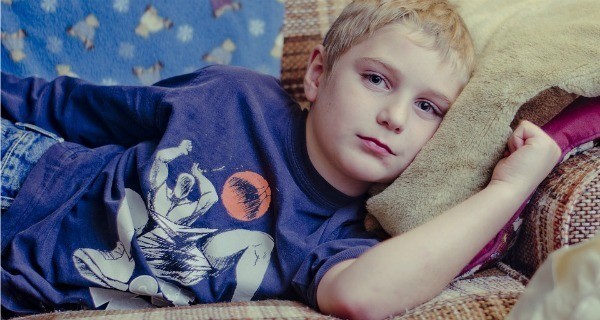 Yesterday, the Make-A-Wish Foundation encountered its strangest and most controversial case to date, as a young Nevada boy, Justin Rosenberg, 10, put forth a dying wish to, "Eat three pussies, like a three-course meal, one after another, and a sundae for dessert."
Rosenberg – who loves the zoo, skateboarding, and his baby brother Leo – was diagnosed with Hodgkin's lymphoma at the age of 3. After a two-year process of radiation and chemotherapy, his cancer went into remission. Unfortunately, late last year, the cancer returned with a vengeance. He was given three weeks to live as of last Thursday.
Today, a small crowd of doctors, nurses, friends, family, and press watched in awe as Rosenberg, who cannot walk, laid out his plans for the Make-A-Wish experience:
"The first pussy will be a warmup pussy, like an appetizer. It'll hopefully really get her going. The second pussy will be like the entree. I'll really go to town on it, and I won't stop till it's all done. Every nook, every cranny. The third pussy will be the dessert pussy, and I'll really have a good time eating that one. I'd prefer if it belonged to a non-American woman, if that is at all possible."
"After that, I'd like to have a real dessert. I'll probably be hungry after eating all that pussy, and I'll want to cleanse my palate. Do you know — does pussy taste good or bad? I'm looking forward to finding out!"
"I just want to…" (At this point Justin was forced to pause and cough intensely) "live life to the fullest…" (a smaller, weaker cough) "while I still can." (at this point he closed his eyes, seemingly having exhausted himself for the day).
"Honestly, we're flabbergasted," Make-A-Wish director of client engagement Sydney Hourigan confessed. "We've never seen a wish like this before. Usually people just want to meet Johnny Depp or LeBron James. I have those guys on speed dial."
Sadly, Hourigan does not seem optimistic about her organization's ability to fulfill the young child's wish.
"It's a shame," she opined, "Because we've never been in the business of letting down dying kids. We make wishes come true — that's our whole thing! I'd be lying if I said I wasn't worried about the backlash either way here."
"I mean… he's not even asking for anyone to do anything to him. He just wants to go down on three women. He doesn't even care who. Maybe we could find someone on Craigslist? …but…no. Any way you frame it, it's still all kinds of illegal. There's no way."
"Wanna know the worst part?" Hourigan added after a pause. "I honestly don't think I can even get him the sundae. The doctor just told me — his immune system's for shit. The kid's allergic to everything."