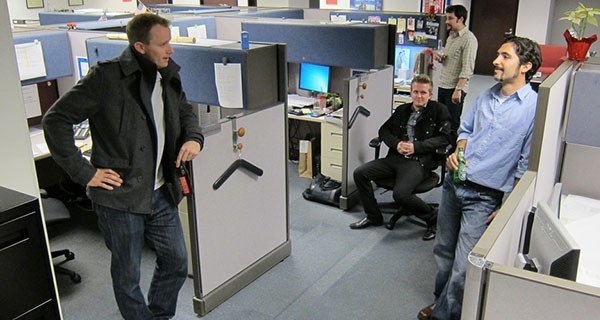 Now that software company Amped Media is almost two weeks into its office March Madness bracket pool, the company reports it's on-track to not only fill, but exceed its small talk quota for Q1.
Usually, Q4, which runs October through December, is Amped Media's most productive smalltalk period, as it includes major holidays, naturally leading to spikes in meaningless conversation both leading up to and after employees' time off. However, based on this week's current small talk levels, the company projects that March Madness 2016 may cause Q1 to be its most chat-filled quarter in years.
The company predicts it will waste between 30,000 and 35,000 man-hours in March alone.
"I went full statistical this year. My bracket is un-fuck-withable," said Tucker Margolis, a junior account manager, before returning to a Yahoo! Sports article about Villanova team captain Ryan Arcidiacono. "George from Biz Dev better get ready to start sleeping in his cubicle."
Moments later, the aforementioned George Gutierrez strolled by. "How about that UNC win? You still feeling good about those stats?" Even though Gutierrez had been carrying a folder containing sensitive reports for Margolis' immediate review, he set them aside and the two commenced a 67-minute debate on whether or not OG Anunoby would be this year's breakout star.
Providing a crucial boost, new TVs have been installed in all break rooms, allowing employees to catch games during office hours without hiding them on their computers.
Additionally, the company recently hired a new vice president of marketing, Justin Goldstein, whose alma mater is Kansas University. This will be key, as National Sales Director Derek Liang has a son currently attending University of Wisconsin. If the duo's parking lot banter is any predictor of the upcoming back-and-forth at the company's sales conference next week, the company's small talk totals may even exceed their competitive quotas.
"I'm feeling very confident about hitting our targets," said Liang. "Not only have Justin and I established a very friendly shit-talking ritual every morning when we get our coffee, but we're also investing a significant amount of time in emailing animated GIFs of the other guys' team being bitches. Honestly, if we're on a conference call, that's probably what we're actually doing."
Unfortunately, not everyone at Amped Media feels they're benefitting from March Madness. "I don't know anything about basketball. Like, zilch," said office manager Vince Bryant. "I just started last month, but I'm already looking for other jobs. I can tell I'm dead weight. If I have any prayer of staying here, I'm gonna have to surpass my Q2 goals. I really hope someone else watches Game of Thrones."