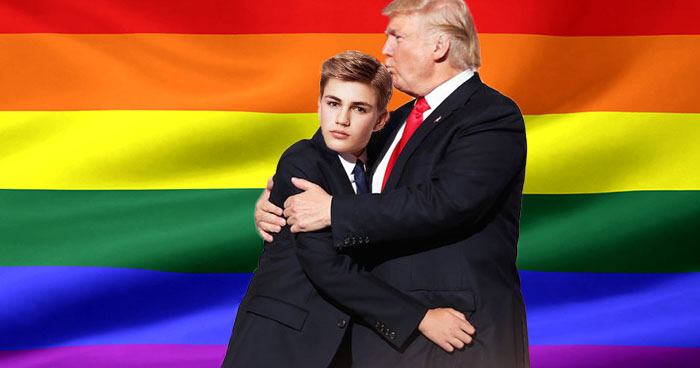 In what could become the next American tradition, President Trump has decided to kick-off Pride Month by giving one queer child a lifetime pardon from his administration's bigotry. Early Thursday morning, Trump named fourteen-year-old Garrison Whitmore the lucky kid who will be protected from the homophobia flaring anew in the United States.
Inspired by the National Thanksgiving Turkey Presentation, only one child will benefit from this act. Trump commented, "I was thinking about those sweet little turkeys, so many murdered each year. So sad. But then one is saved! I wanted to recreate that but for the gays. Of course, all other LGBTQ youth will be left to fend for themselves."
Starting with day one of his presidency, Trump has been criticized by LGBTQ advocates for his discriminatory policies. From appointing an openly-homophobic Cabinet to erasing all mentions of LGBTQ from the White House and State Department website, many say that Trump has made America less safe for queer people.
When asked how this pardon will be implemented, Trump struggled to explain. "Well, people will just know he's pardoned, you know? And will be nice to him, treat him normal, I guess, instead of like a weirdo." In response to being asked why he doesn't just pass laws to ensure universal equal treatment, Trump had no comment.
What Trump perhaps saw as an act of goodwill has been viewed by most people as a display of ignorance. LGBTQ advocates have been quick to clarify that this new tradition will be absolutely meaningless.
Since homophobia and transphobia are institutionalized forms of oppression, they work in invisible and systematic ways. It's impossible to protect a single individual from this type of discrimination without actual legislation. In their official statement the Human Rights Campaign said, "We aren't sure why Trump felt it was appropriate to compare the LGBTQ citizens of this nation to turkeys, but honestly, we aren't surprised."
For the pardoned Whitmore, life could be about to change. After the announcement he tweeted, "I'm not even gay, I'm just in the drama club. Jesus Christ I'd be a better President than that idiot."