It's a busy season, and you're a busy guy. Between working like a dog and spending time with your family, when will you find time for your SECOND family? With the holidays just around the corner, use travel time to peruse those complimentary issues of SkyMall to find presents for your next-bests — all from the comfort of business class.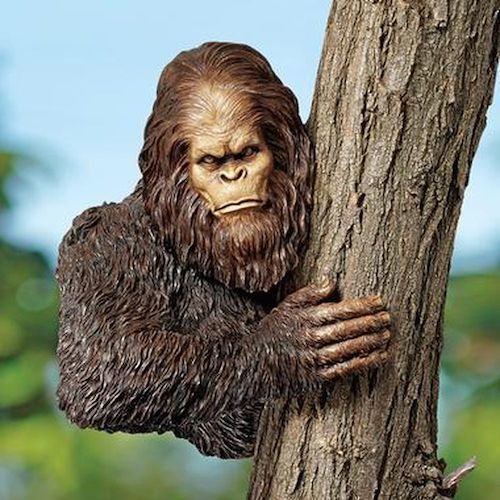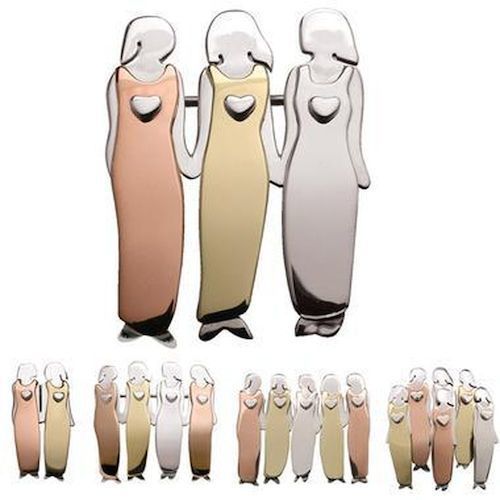 Bigfoot, the Bashful Yeti Tree Sculpture
Lower your second family's expectations with this embarrassingly out-of-touch lawn ornament. It also conveniently doubles as a "neighbor scarecrow"—nobody's snooping around the yard as long as this monstrosity is peeking from behind a nearby tree.
Women Pins
You already bought your first wife diamond studs, but your second wife is expecting jewelry too. Tell her she's second best with these vaguely pro-woman pins.
Litter Robot
Since you're not there to help out with chores 99% of the time, this self-cleaning litter box will make sure the job gets done while you're inevitably away. It'll also minimize complaints about how you bought the kids a cat last year without thinking about the repercussions.
This seemingly thoughtful present is four for the price of one. Just engrave everyone's name on it, then tell them to take turns wearing it. This way, not only are you including everyone, but you're also creating a false sense of tradition while saving money you can put toward your actual life.
iPad Wall Clock
If anyone's getting a real iPad, it's you. So for your second family, why not get this completely useless wall clock? It shows you're aware of new technology, without making them feel like they deserve it. Plus, the apps almost look like real apps, just like how your second family almost looks like a real one.
I Love You More Throw Blanket
Think of all the time you spend assuring your second family that you love them just as much as your first family. Now imagine an object they can look at instead of calling you. This object has arrived for the low price of $69.95.
Autumn Family Tree Pillow
Nothing tells your second family "don't expect too much from me" like a decorative pillow. Remember, these people are your runner-ups.
Framed Film Cells of The Beatles
There's something nice and catch-all about The Beatles, isn't there? This is perfect if you have a second son who you vaguely recall being interested in music, but who you frankly don't want to invest too much time getting to know. Even if he hates The Beatles, for all he knows, you're trying.
Bracelet Assistant
It fits the bill and also gives your second wife hope for future jewelry purchases. Luckily, it's not a binding contract and she'll probably forget by next year anyway.
Queen Latifah Queen for Women Perfume
We didn't even know Queen Latifah had a perfume, but dammit if it doesn't scream "I have other priorities."
Squirrel Tree Climber Sculpture
If they're really not getting how emotionally unavailable you are, set the tone with this idiotic tree ornament. It'll show them you're completely immune to what the hell they think about you.
Virgin Island Room Divider
You know you're never gonna take them on a vacation, but that doesn't mean they do. Distract them by charmingly joking, "Who needs islands? We can take a vacation in our living room!" They'll have to politely giggle instead of calling you out on your bullshit.
Serenity Dog Pod
If you're being honest, you might love this dog more than anyone in your second family. Maybe even anyone in your first family. Luckily, it'll look like you're just a sensitive guy who loves animals.
Inada Dreamwave Massage Chair
Yes, the price tag is steep, but hear us out: this one's really for you. Sure, you're gonna "give" it to the second Mrs., but think about the long game here: what's better after a long day of travel than vibing out in your own personal massage chair?
Batman One-Piece Pajama
You're inevitably gonna forget about that extra kid you had, so think ahead and buy this unisex, one size fits all onesie. Since it'll literally fit anyone, you are good to go, my man. Can they make more presents like this? Hell, maybe you should stock up in case you end up with a third family.
Pierogi Ornament
This bizarre Christmas tree ornament will give the illusion of a playful sense of humor while letting them know you're half-assing this. All of this.
Take What You Need Inspiration Box
A simple, passive aggressive reminder that your silver medal family should value the few things you're giving them. Plus, with its vaguely Christian undertones, it'll sound like you're trying to communicate something about good values, whatever those are.
Star Wars Darth Vader Toaster
Your first wife won't let you bring this into the house, but maybe your silver medal one will let you get away with it, especially if you tell her, "It's for the kids. Lord knows they need some fun." If you're lucky, they'll grow out of it and she'll let you take it home one day.