Having trouble getting a full night's sleep? You're not the only one, and who could be surprised when there's so much stuff to worry about? The economy's in the toilet, most of our elected officials are maniacs, and there's a good chance that guy at work actually does want to kill you, and it's not just a delightful joke he keeps repeating every time he sees you. Thankfully, this handy guide will show you how to drift off to slumberland in no time.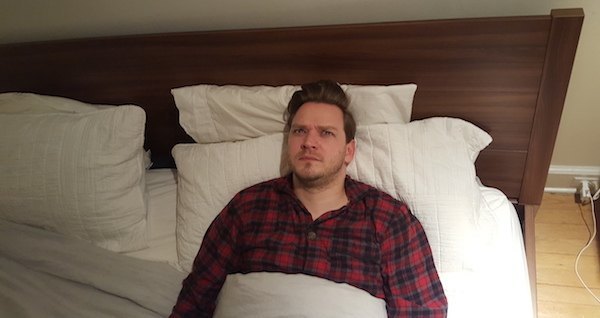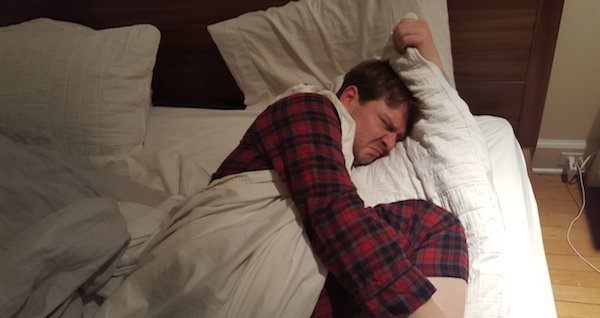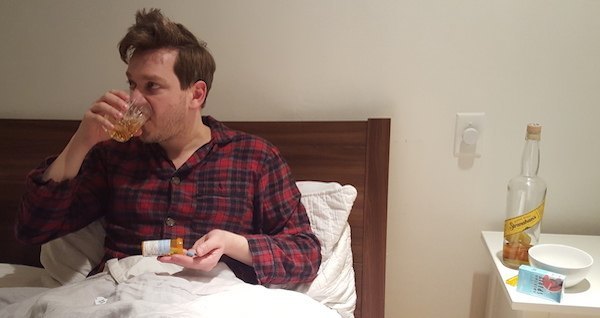 Step One: Turn Off The Electronics
Many studies have shown that flat screen devices like your TV or phone emit what is known as "blue light," which suppresses the production of melatonin, the chemical that makes you sleepy. Try reading a book in bed instead, to avoid tossing and turning while your brain takes you on an hour-long stress ride that begins with you missing one credit card payment and ends with you being incarcerated in a cell with J. K. Simmons' Nazi rapist character from Oz in a way that somehow all makes perfect logical sense and OH GOD you should check your bank balance right now.
Step Two: Relax Your Body Bit By Bit
To get your body to enter a sleep state, concentrate on your toes and will them to unclench and relax: It's a combination of physical relaxation and simple mental exercise that will get you snoozing in no time. Next, think about your feet and make them do the same thing. Feeling sleepy yet? Once you hit your calves, allow yourself to lose your concentration and instead remember how everyone used to make fun of your calves in gym class. Spend 15 minutes wondering what that bastard Kevin McGinley's up to now and praying he's not happy or successful in any way.
Step Three: Deep Breathing
If you're still awake, try taking deep, soothing breaths in through your nose and exhaling through your mouth, but most definitely NOT the other way around. Count to five on the inhale and again on the exhale: This will flood your body with oxygen and make your brain more susceptible to the suggestion of sleep. Try not to think about the time Kevin told everyone you had "doody-breath" when you exhale.
Step Four: Google Kevin McGinley
Okay, fuck it, it's been an hour and a half and there's no way you're getting to sleep without seeing what that fuck's been up to since high school. Search for him on every social media site you can think of, then try and put it all together while telling yourself that this will be good for you, somehow. Closure, or something? Whatever helps you sleep at night, which still hasn't happened as of yet, by the way.
Step Five: Spend An Hour Rolling Back And Forth In Complete Outrage At How Happy Kevin McGinley Is
Married? That fucker's married, with kids? Who the hell would marry Kevin McGinley? You were so sure his life had peaked in Junior year, how can this be? And it's distressingly likely, looking at his LinkedIn profile (yes you went there) that he earns considerably more than you in a much more interesting job. Clearly, something has gone very, very wrong in the universe.
Step Six: Smoke Three Cigarettes While Questioning Every Decision You've Ever Made
Resign yourself to a night of torment and chain smoke till around 3AM while thinking about where you went wrong in life. It was probably Alice, to be honest. Sweet, beautiful, brilliant Alice, who you completely ruined it with for no reason other than that you just can't do anything right, can you? Look at yourself, you're out of shape, miserable and barely scraping by. No wonder everyone hates you and wishes you'd just disappear forever. USEFUL TIP: Herbal tea has also been shown to have properties beneficial to those with sleep disorders.
Step Seven: Give Up And Take Two Klonopin With A Huge Glass Of Whisky
If your brain hasn't agreed to go to sleep now, you'll have to drug it — just like that bastard Kevin McGinley must have done to his wife, I mean he must have, there's no other reasonable explanation. Take more than you actually need with the alcohol the label expressly recommends not drinking and sleep right through your alarm, waking up even more exhausted 11 hours later to five increasingly angry voicemails from your boss. Contemplate running away, but finally reason that everything will seem better after a good night's sleep.