With increasingly discerning audiences, Netflix categories are constantly evolving to direct customers to films that match their tastes. The specificity can be unnerving at times, but then again, you sure did love those "Raunchy Comedies Featuring a Strong Female in Pre-Soviet Russia Circa 1910."
For those of you that have seen all of the Oscar nominees and are looking for similar suggestions, here are 8 unusually personal Oscar categories suggested by Netflix that'll satisfy each mood, from Selma to Birdman.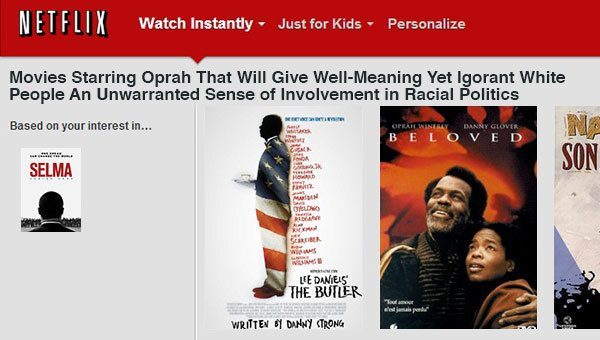 Because You Watched 'The Imitation Game'
If you loved staring at Benedict Cumberbatch in 'The Imitation Game,' 'War Horse' will give you another chance to luxuriate in his deliciousness against the backdrop of a war drama.
Because You Watched 'The Theory of Everything'
There was no need to skim the Wikipedia entry on quantum mechanics before 'The Theory of Everything,' so get ready to completely ignore livestock handling processes before tuning into 'Temple Grandin.'
Because You Watched 'Selma'
For white "allies" who skipped the Ferguson protests, watching 'Selma' from the comfort of an AMC Loews 17 was a great way to stay involved, wasn't it? Give yourself another pat on the back after watching 'Lee Daniels' The Butler' on your couch. Oprah's amazing in this too.
Because You Watched 'Boyhood'
For viewers who finally got around to watching 'Boyhood' because their mothers had taken to ending calls with a 10 minute guilt trip about how much they were "looking forward to hearing your opinions on it," make sure you take care of 'The Spectacular Now' while you're ahead.
Because You Watched 'Grand Budapest Hotel'
Because no sled scene is ever too long, 'Snow Dogs' will deliver where 'The Grand Budapest Hotel' cut corners.
Because You Watched 'Whiplash'
So it turns out your mom is already ahead of you; not only has she seen 'Whiplash,' but she was also inspired to check out recent indie classics like 'The Squid and the Whale.'
Because You Watched 'Birdman'
Finally, 'Birdman' is getting Keaton the respect he should have gotten with the before-its-time cult classic 'Jack Frost.'
Because You Watched 'American Sniper'
Great comedies are rare these days, but these flicks will keep the laughs coming until 'American Sniper 2' comes out.
Looking for more Netflix recs? Check out 23 Movies Streaming on Netflix You're Honestly Never Gonna Watch Anyway