Remember how convinced you were that your high school boyfriend, JB, was definitely 100% The One, and that prom would be the night you told your grandchildren about fifty years down the line? Did that end up happening? That's what I thought. Now imagine if you two lovebirds decided to get matching couples tattoos. Here are thirty-five people who confidently live in a perpetual state of delusion where they are completely convinced they will be Mrs. JB forever: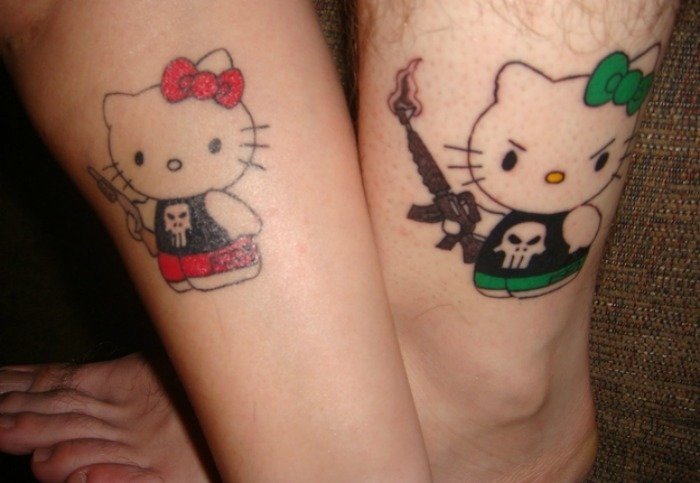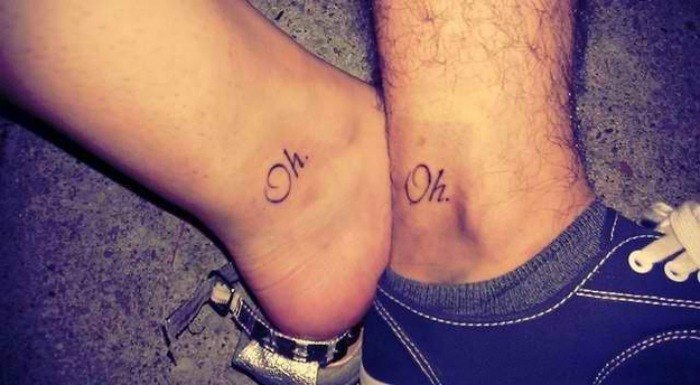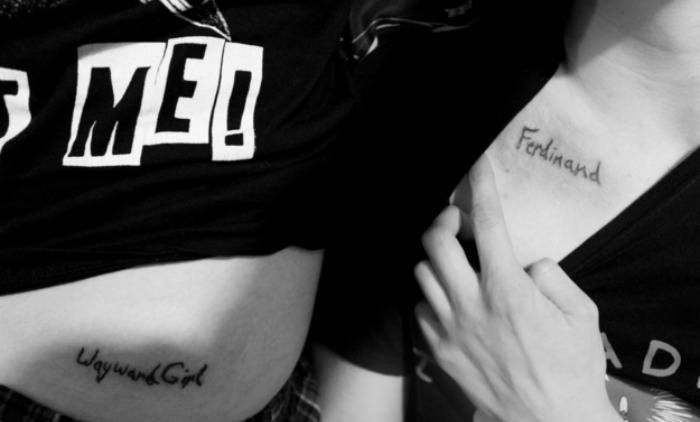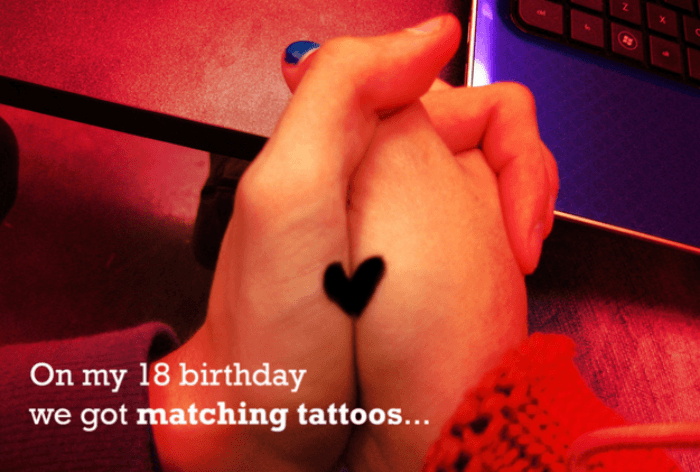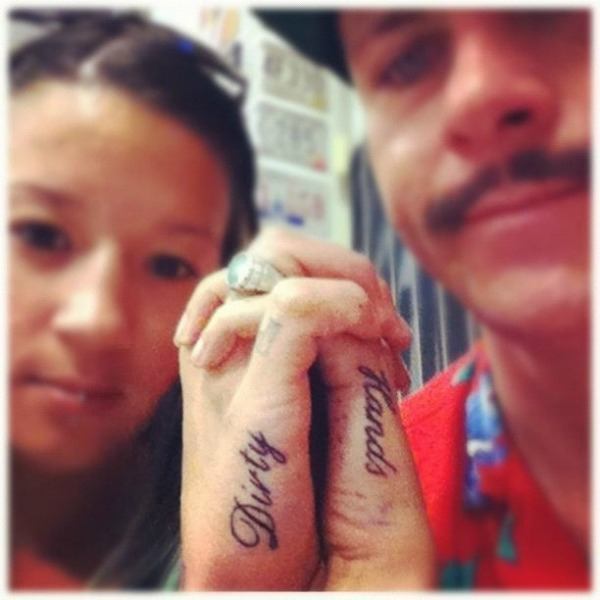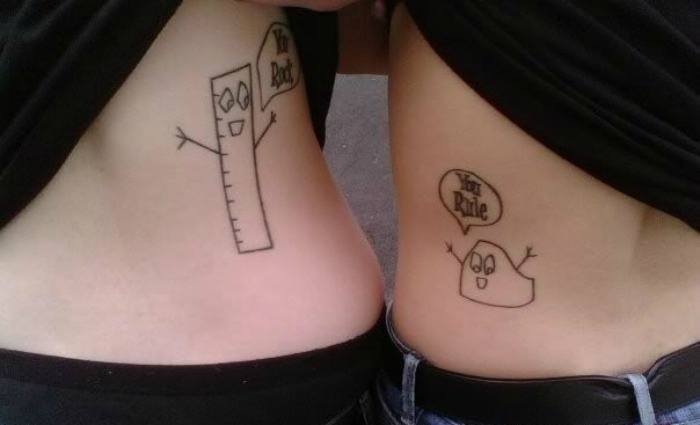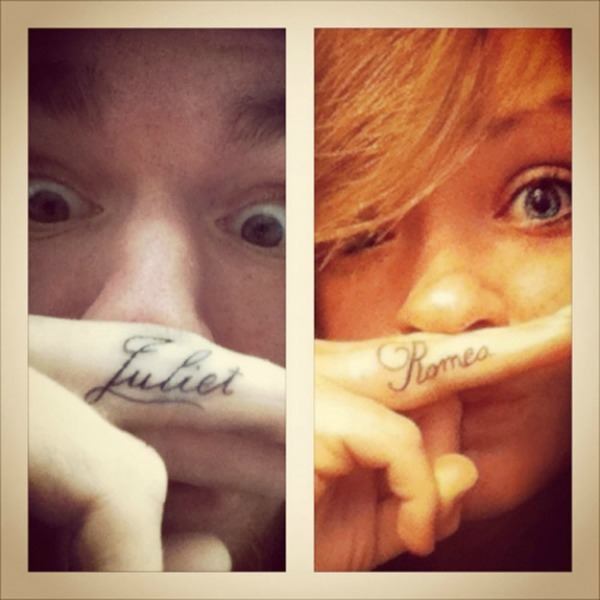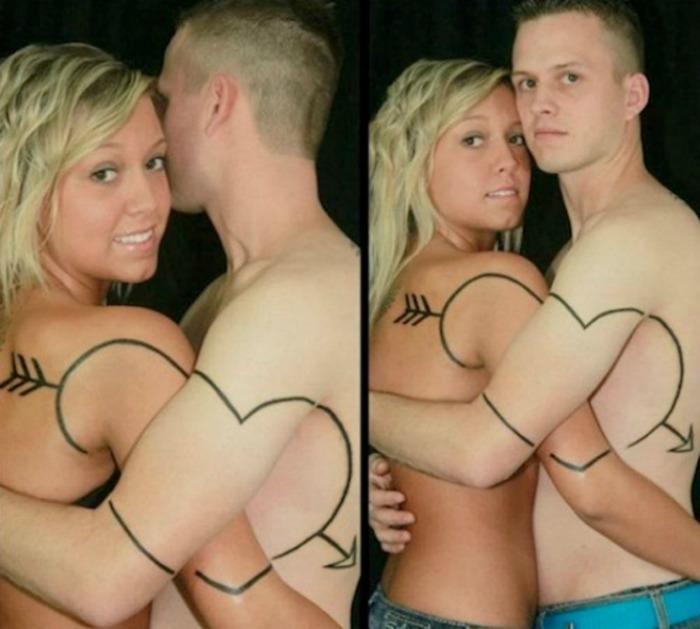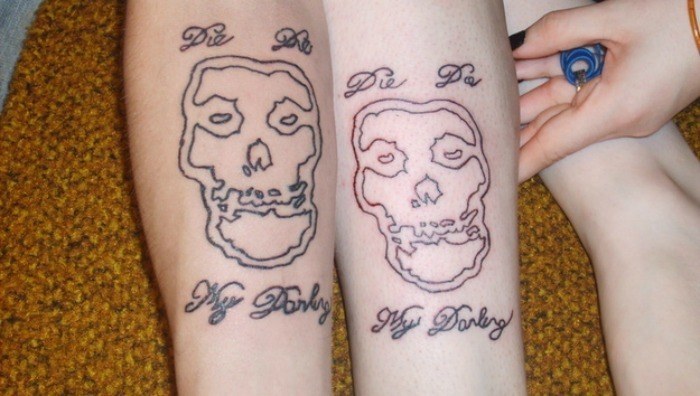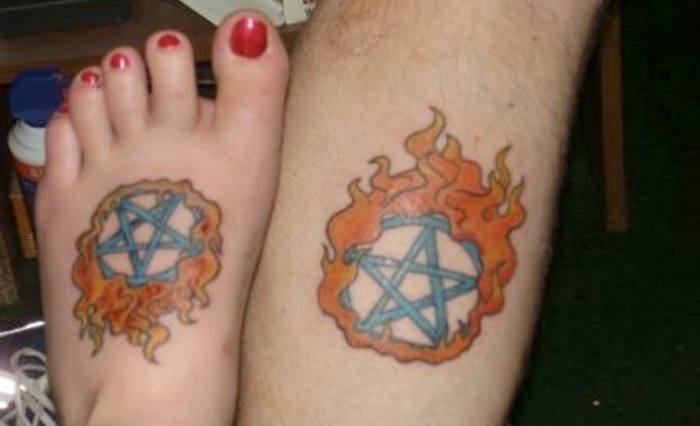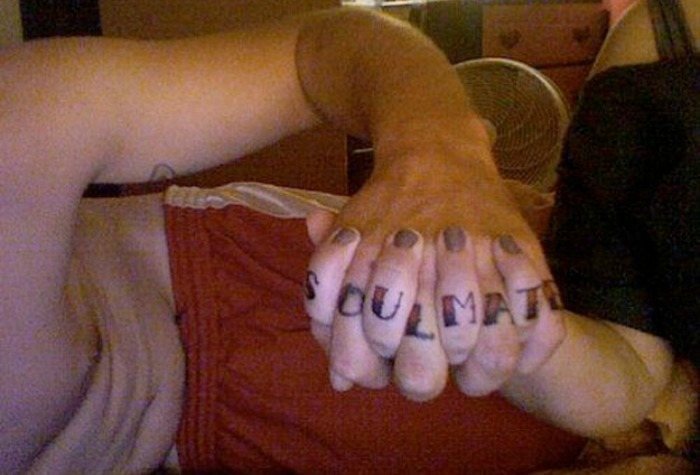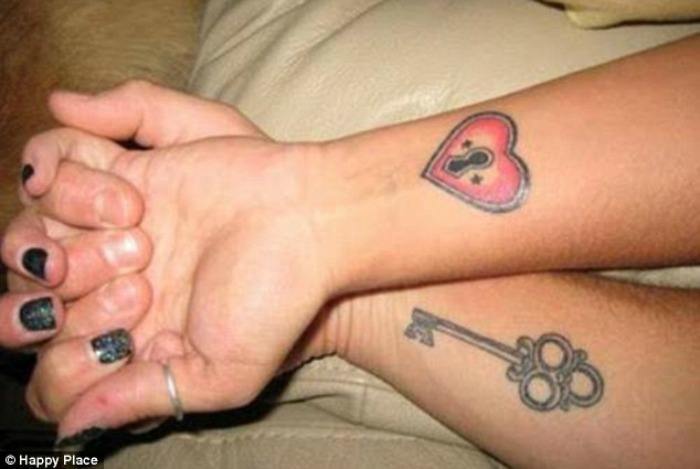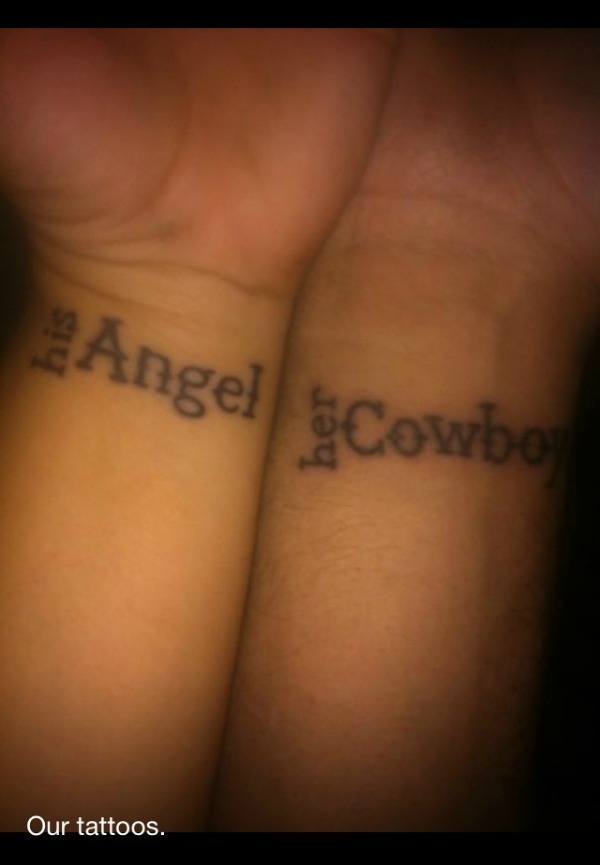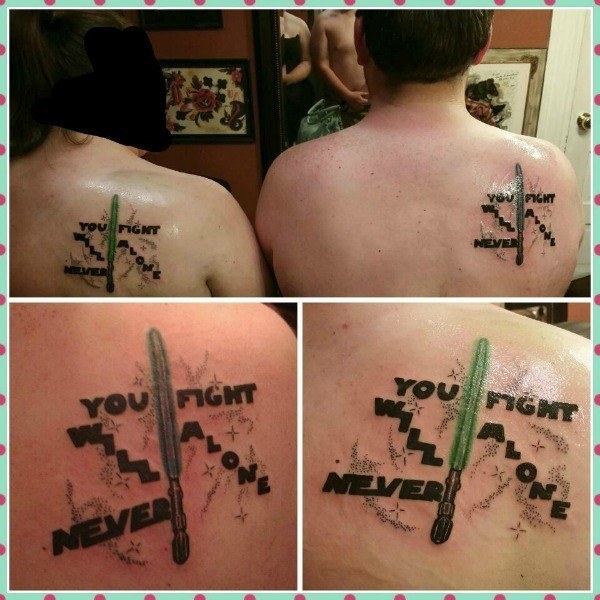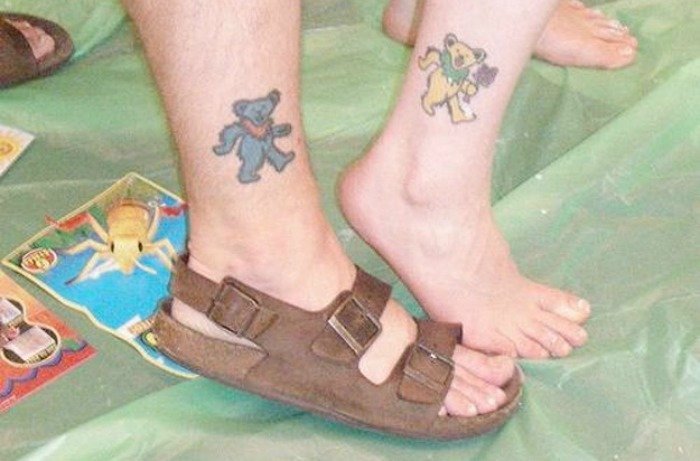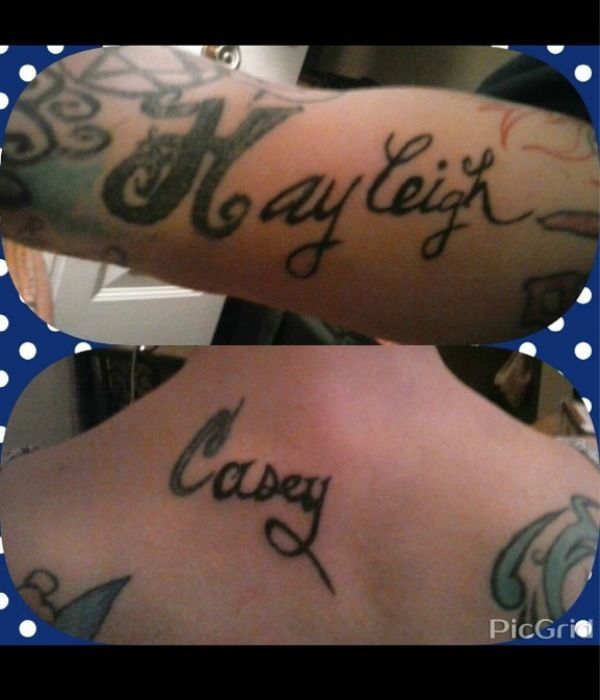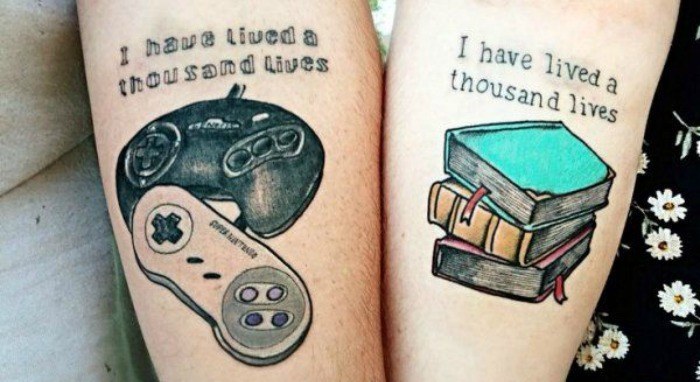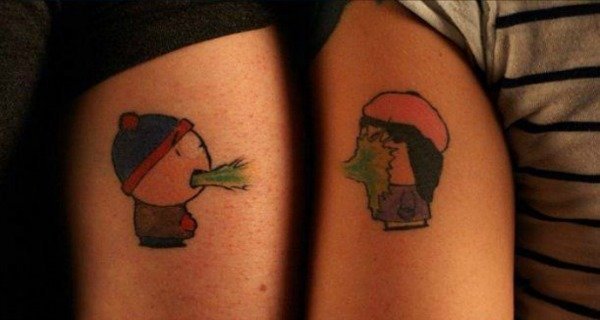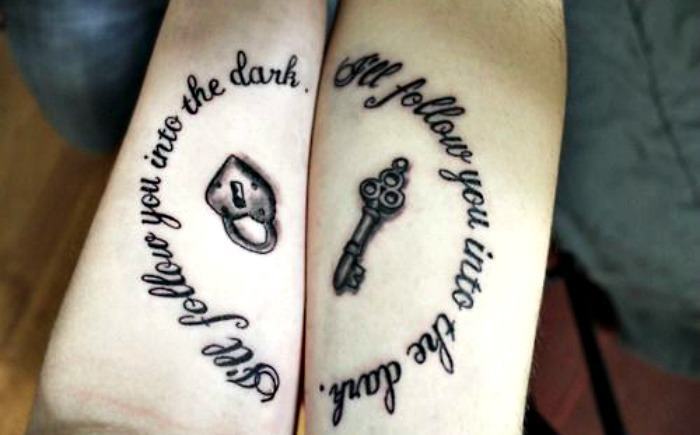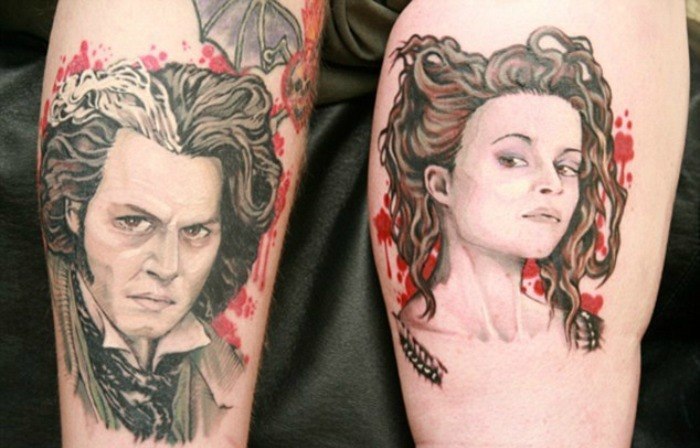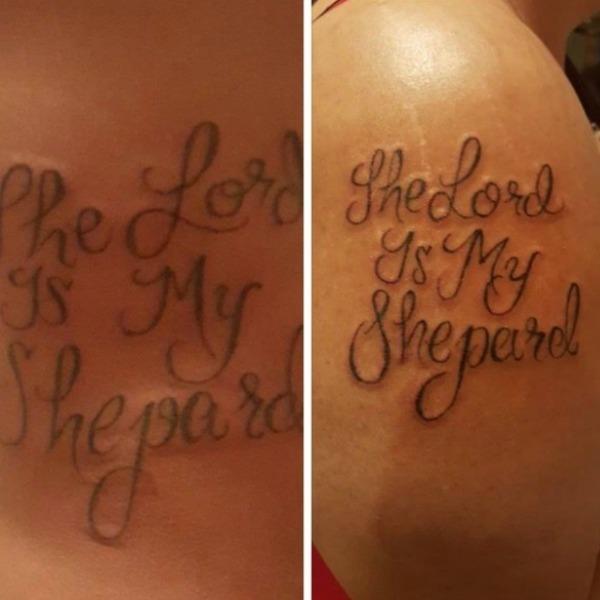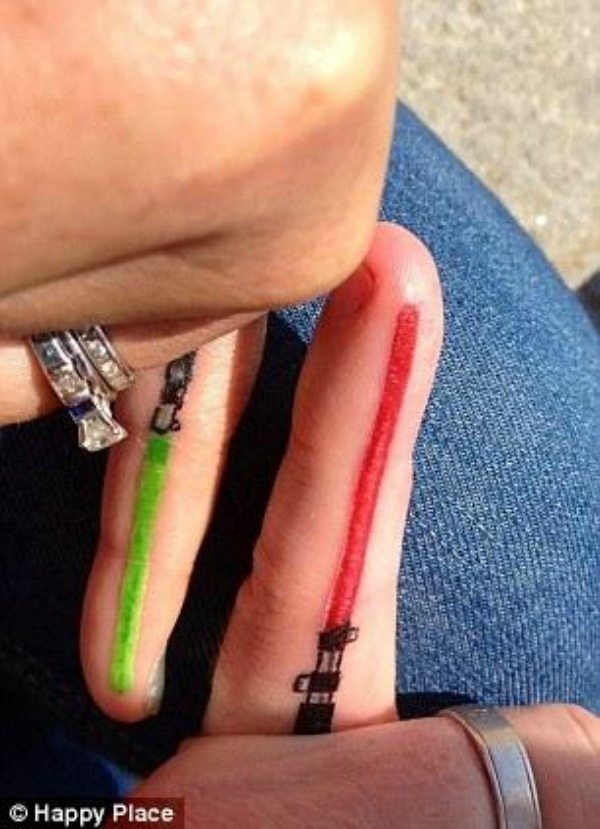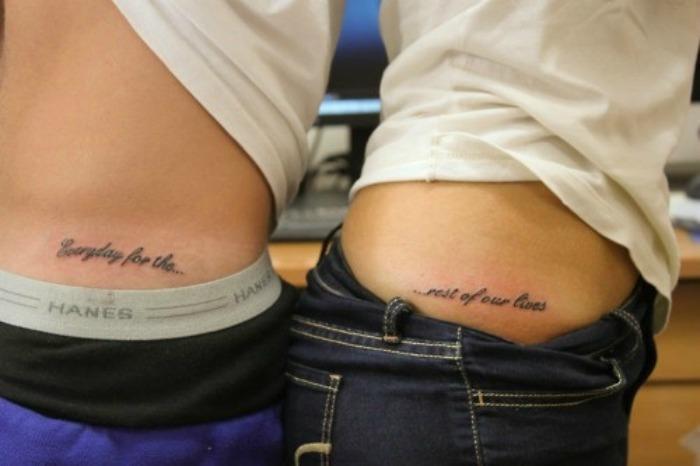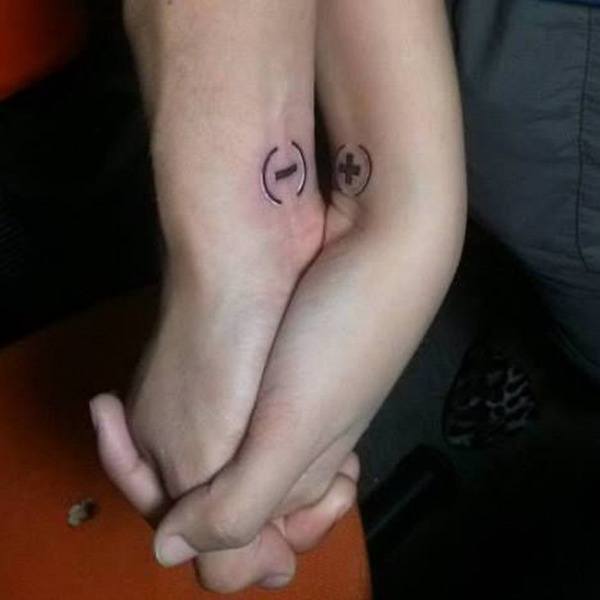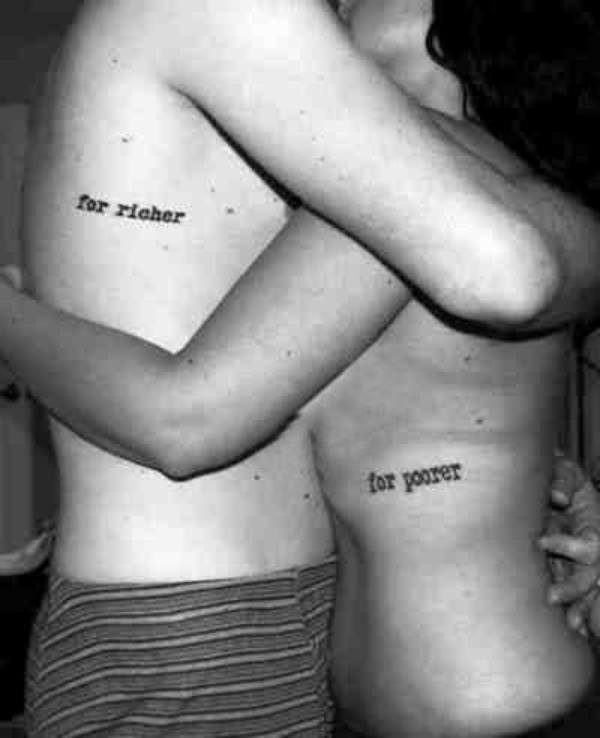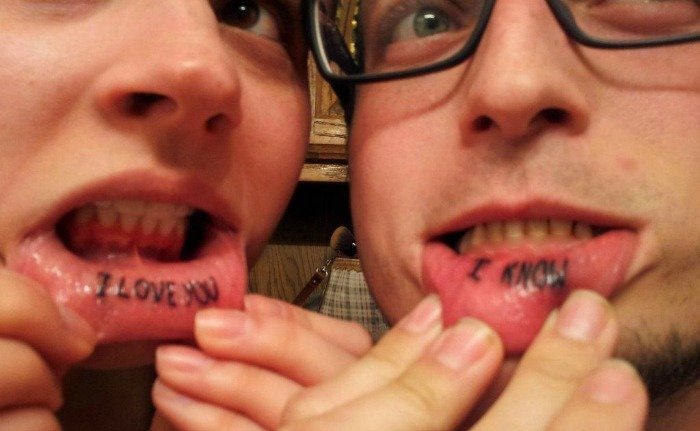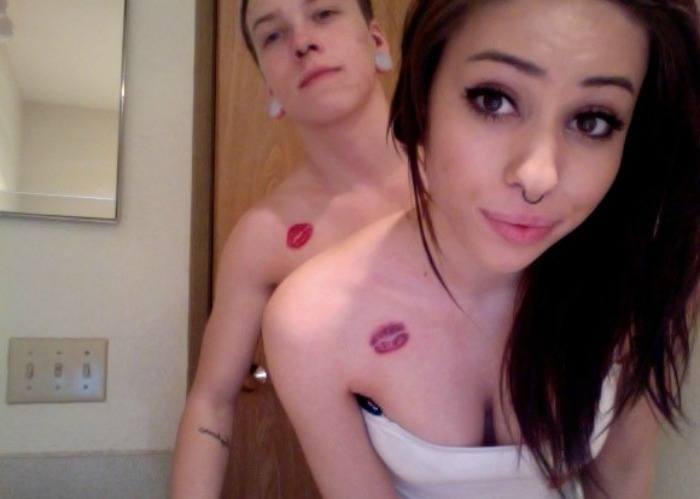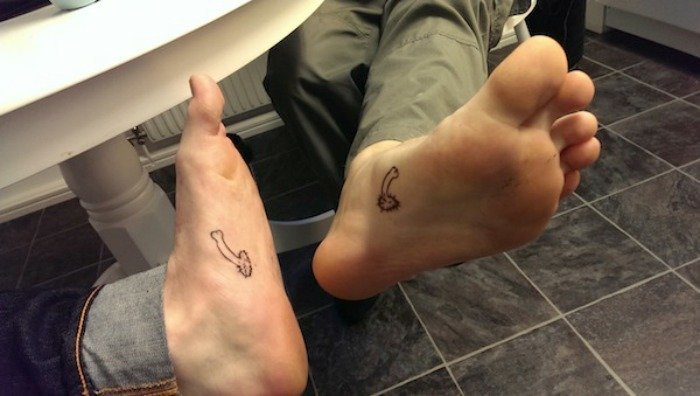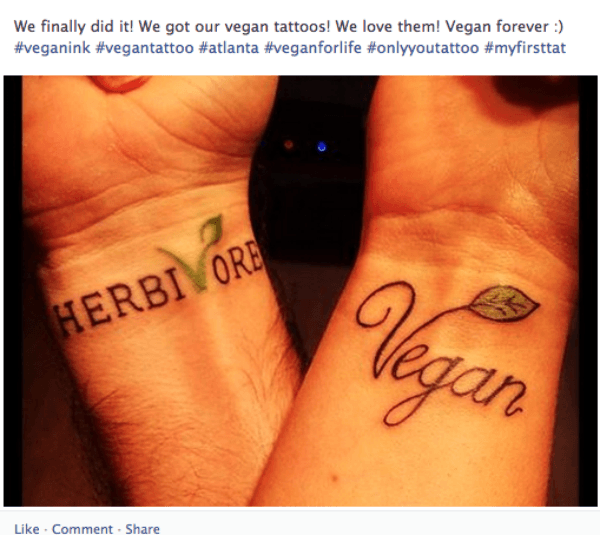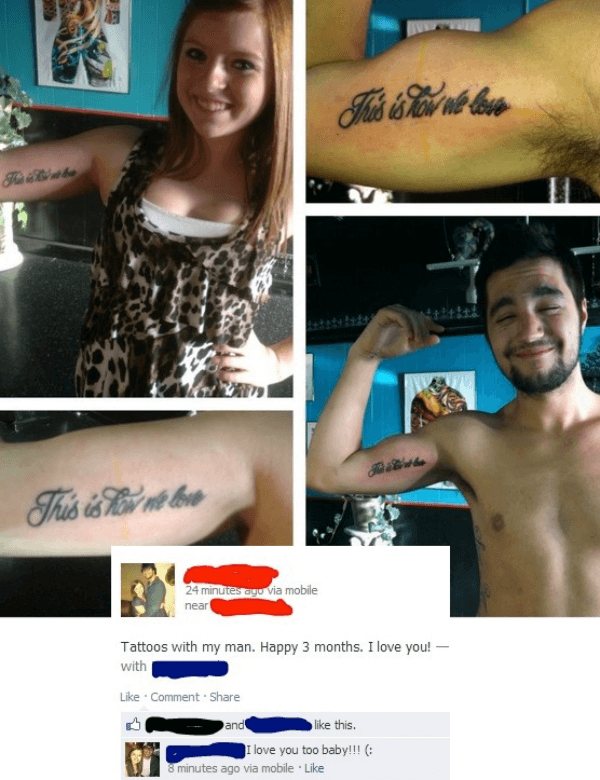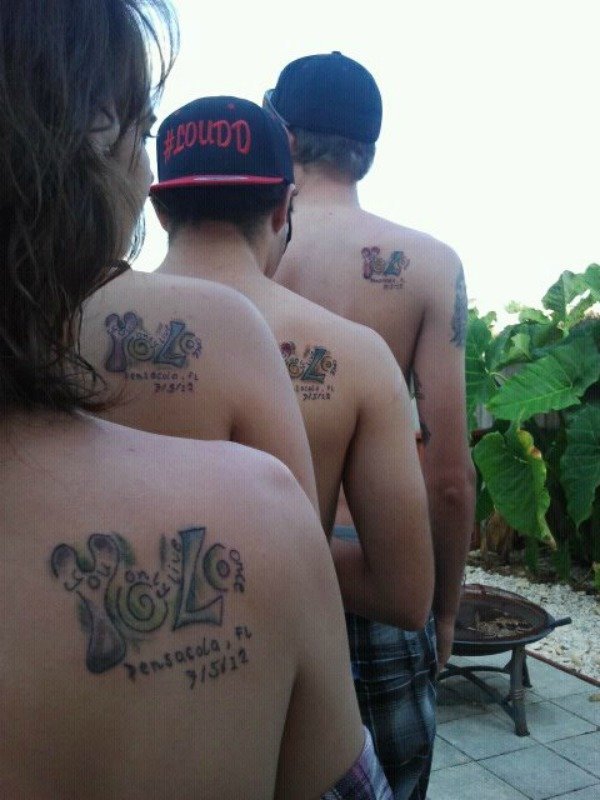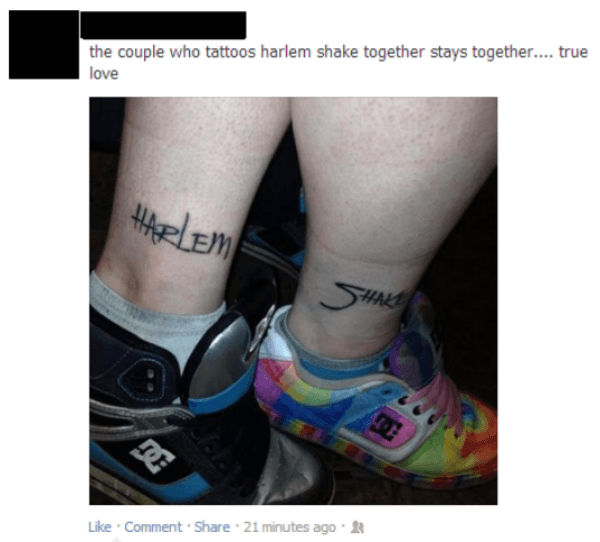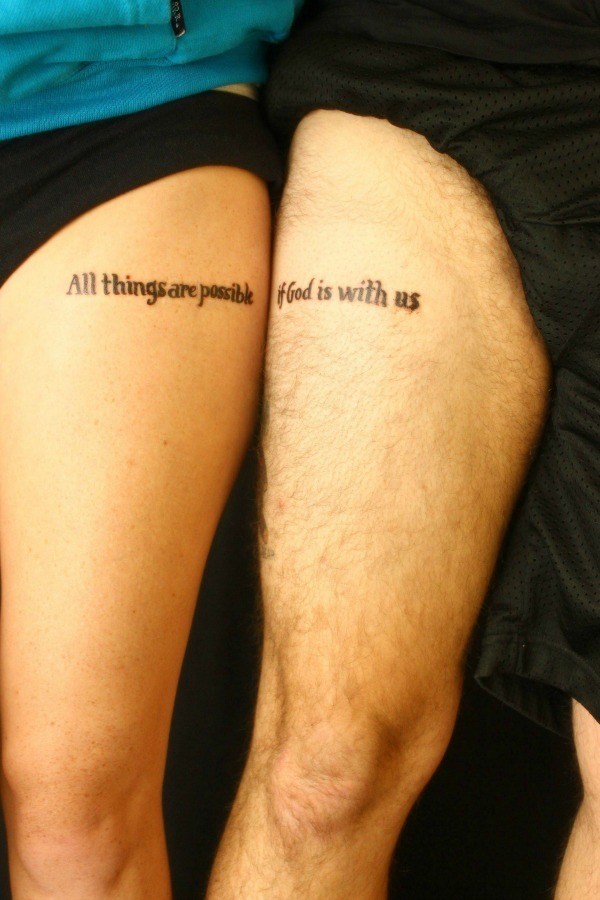 Hello Kitty, goodbye any semblance of professionalism.
Maybe their pretentiousness will keep them together!
If Belle and Sebastian isn't the bedrock for any healthy adult relationship, I don't know what is.
And on my 19th birthday, I was quietly sobbing into my pillow, all alone with half a heart tattooed on my fucking hand.
So if they break up, her hand is just gonna say "dirty" and his is just gonna say..."hands."
On the plus side, if they do stay together, they'll always have a go-to Dad Joke.
I'm gonna go out on a limb and suggest they haven't gotten to the end yet...
For the couple who only wants their tattoos to make sense in the most specific of circumstances.
And if they break up, they'll STILL have a horrible Misfits tattoo!
This tattoo really says "I love you honey, and also, Satan."
Have fun answering "What does SUMT/OLAE mean?" for the rest of your life!
And the winner of most original couples tat goes to...
If I had a nickel for every time I heard "they go together like Angels and Cowboys."
Awwww, babe, you fight will alone never, too!
Wearing that train / high on cocaine
It 100% looks like this guy tattooed her name on his right arm with his left hand.
"And died a thousand deaths!"
If there's anything that withstands the test of time and adult maturity, it's South Park AND vomit.
It's gonna be REAL hard to unlock that padlock in the dark.
For the couple that plans to get married in the mall outside a Spencer's.
I bet their kids are gonna be SUPER normal.
The Lord did not sign up to be in this three person relationship.
When you break up, you can wipe away your tears with your teeny tiny light saber.
I like to think he got "Together for the..." and waited to see how she'd finish the sentence.
So... they repel each other?
Top of the list of "Tattoos that will make absolutely no sense when you break up."
I DON'T know why anyone would get this tattooed on their face.
You know, for that super sexy position "simultaneously kissing each other's clavicles."
I REALLY hope this is sharpie.
You know what? These two deserve each other.
They've been dating for less time than it would take to air a single season of a Reality TV show called "Extreme Tattoo Removal."
Not sure if these people are technically in a relationship, but, then again, it's Florida.
Nothing binds true love like a fleeting, topical reference emblazoned on a very visible part of your body, forever. On the plus side, maybe their mutual shame will keep them together.
God, once again trying to third wheel your relationship.
Thanks to Buzzfeed and Someecards for some of the photos used in this gallery.
Like these hilariously bad couple tattoos? Check out hilarious tattoo fails and photos that prove Florida is the worst!