The right to bear arms is a sacred one to some Americans, and one that trumps the rights of all others (especially the right to not be intimidated, frightened or shot). These open-carrying martyrs are here to demonstrate just how safe and responsible they are, so remember not to feel even slightly concerned as you look through these 29 unbelievable gun nut photos: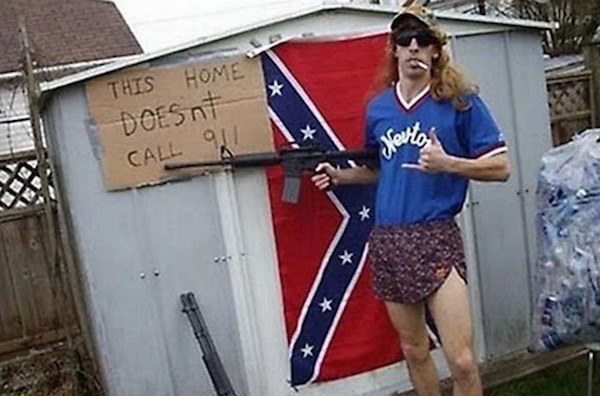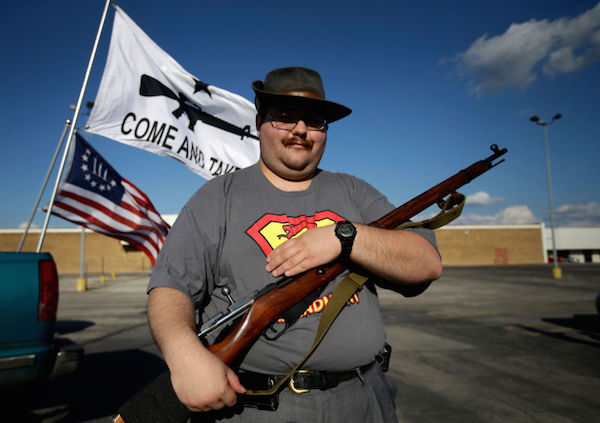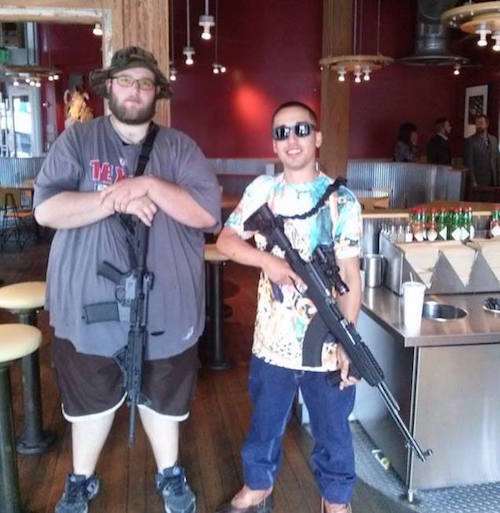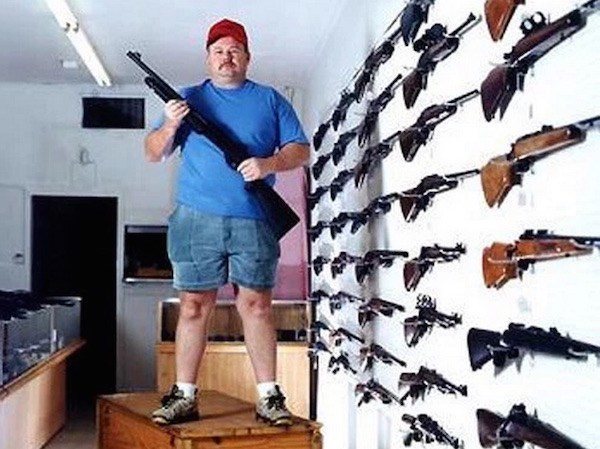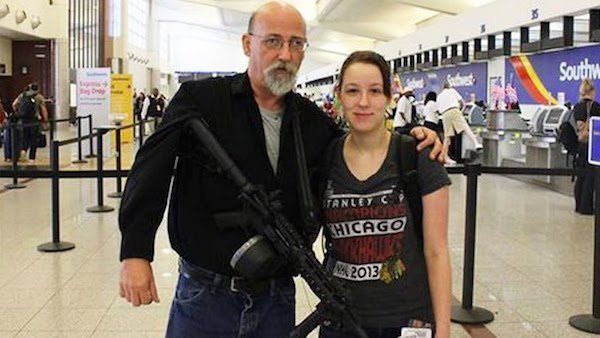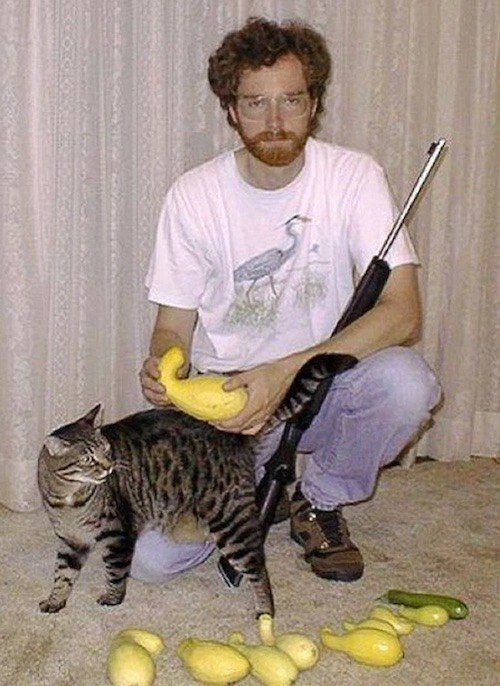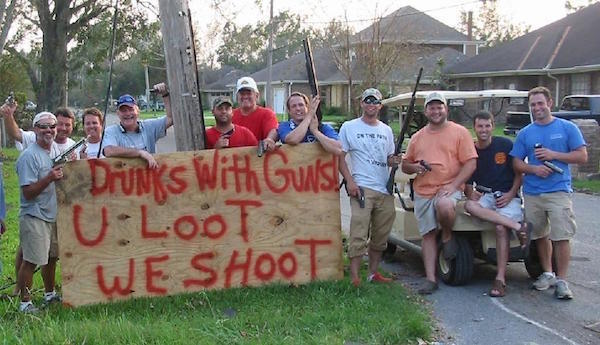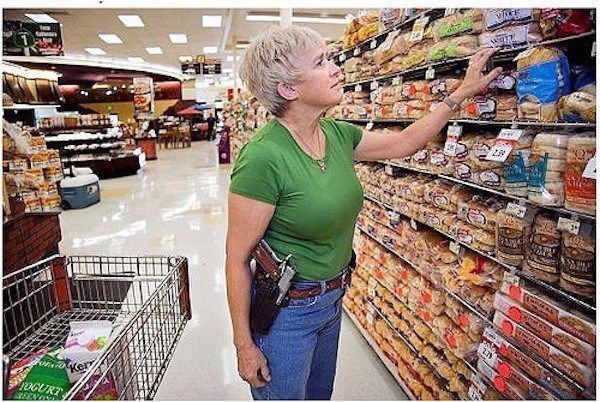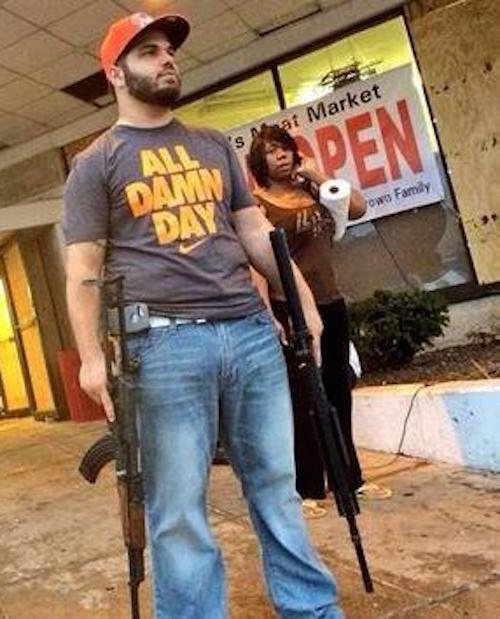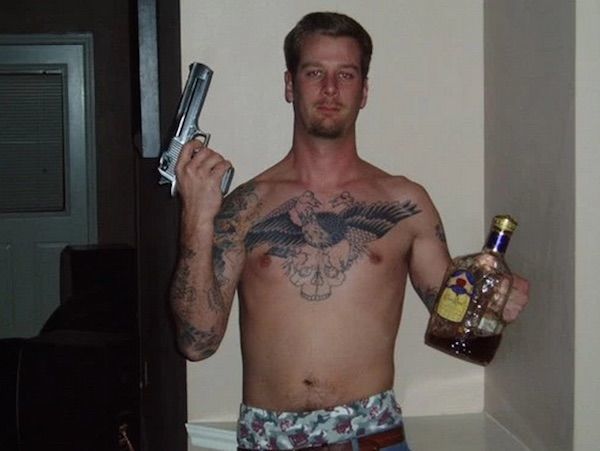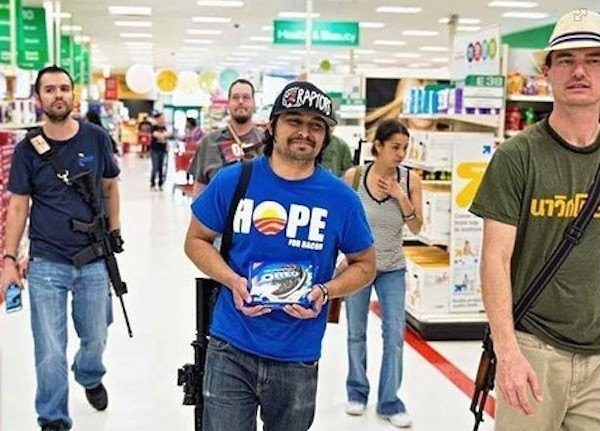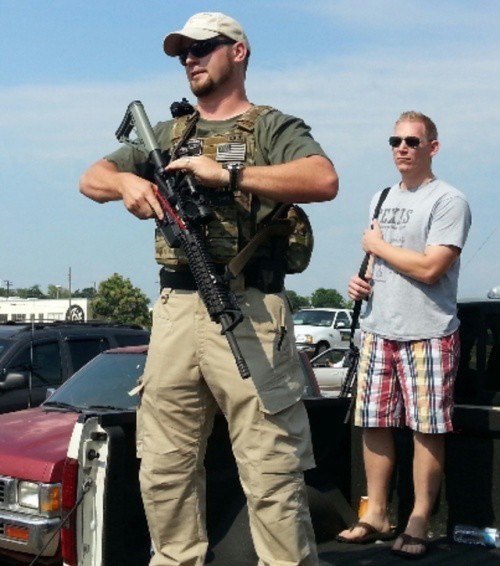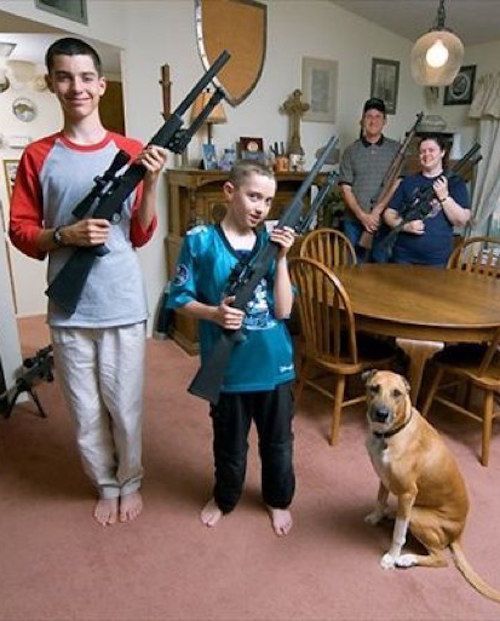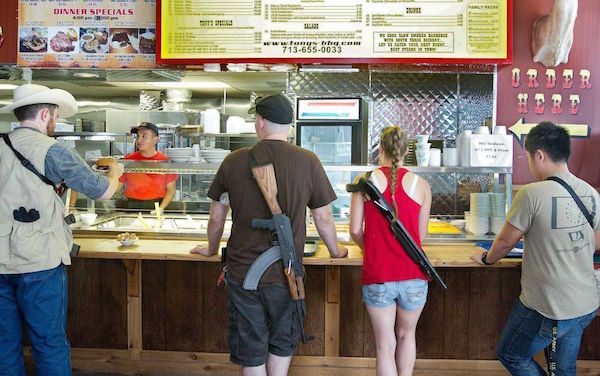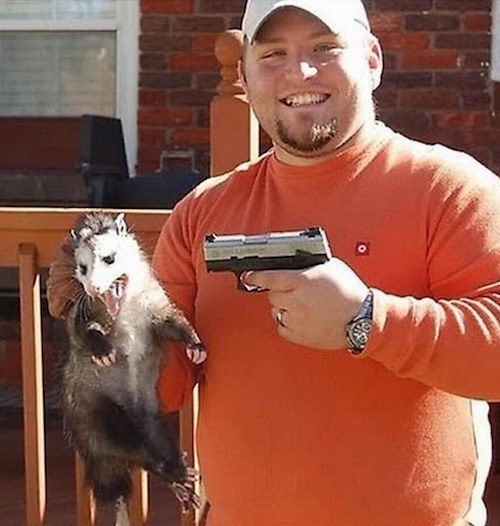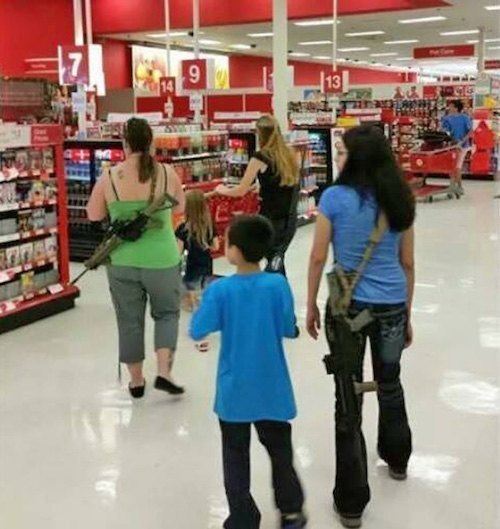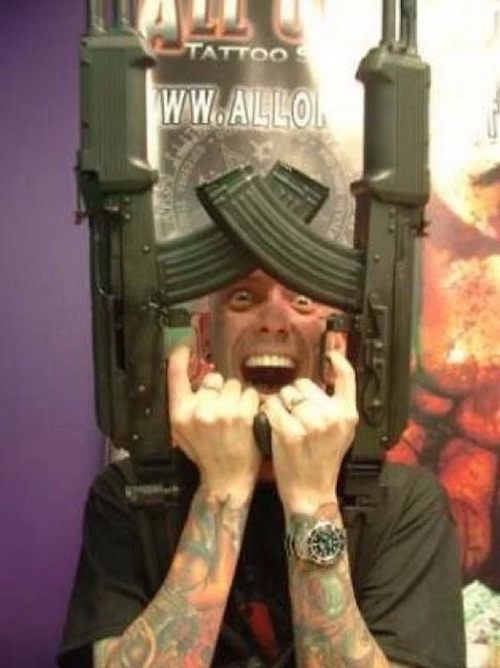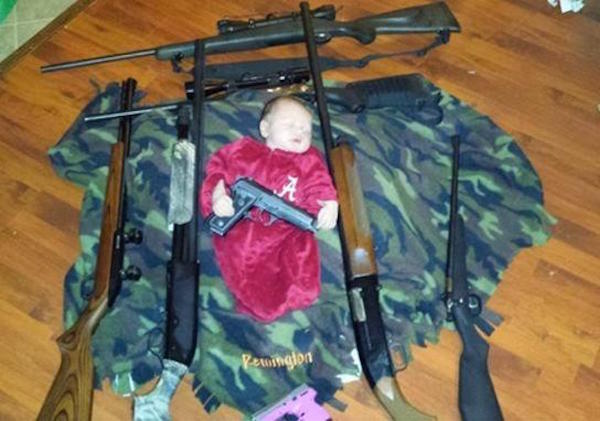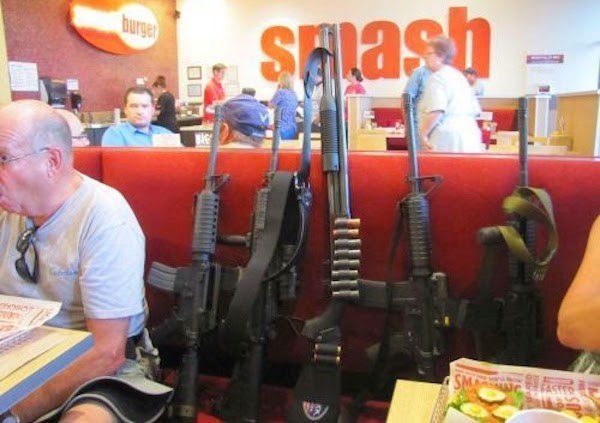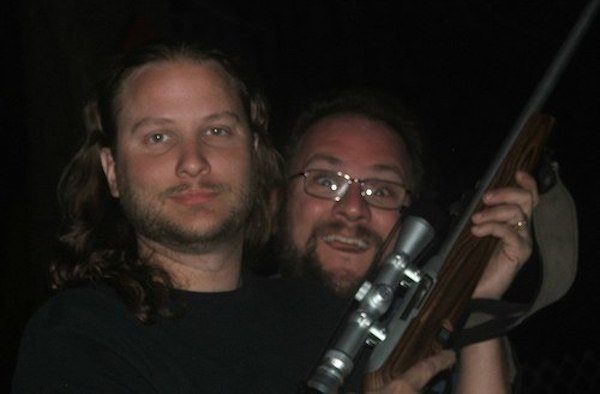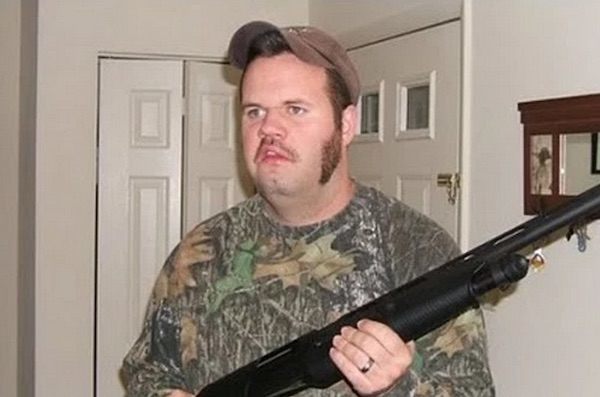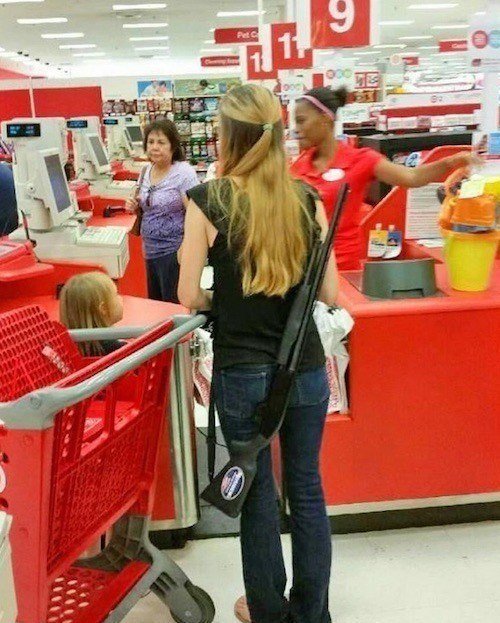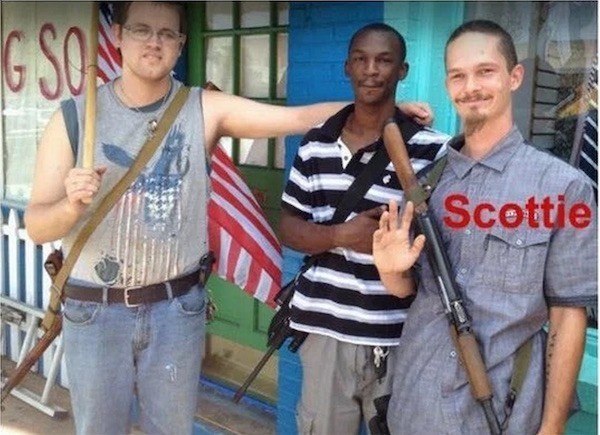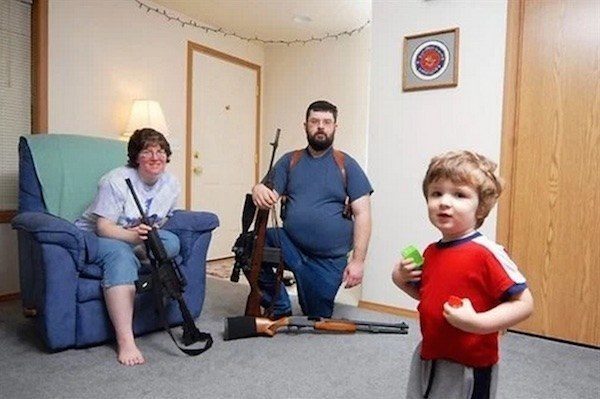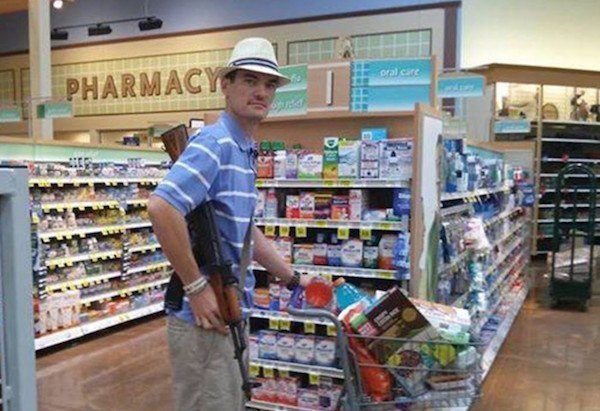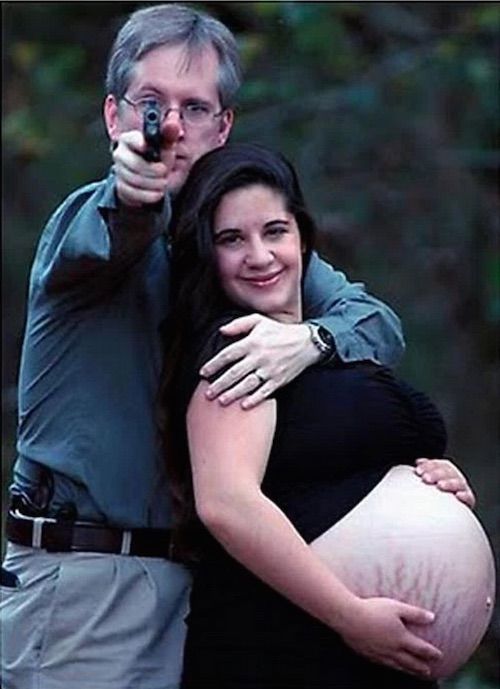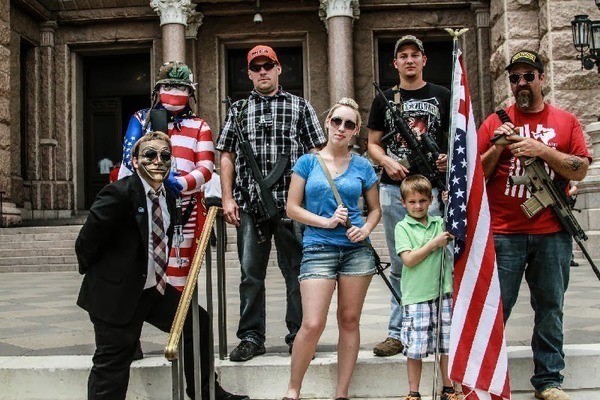 "...because we don't have a phone. Or electricity. Or running water."
Pretty sure the rest of that banner reads, "...My Virginity."
Chances that these guys have never been on 4chan: Less than 0%.
This is nothing, you should see his collection of Beanie Babies!
America: Where foreign culture is only embraced if it comes wrapped in foil with three types of hot sauce.
"You'll never take my gun! Never! Huh? Ohhh, shoes and belt. Sure, that's fine."
Somewhere, there is a back story to this photo. And we hope we never, ever hear it.
You know it's bad when the most offensive thing about this photo isn't what they're wearing.
"And the brown bread is allowed on the same shelf as the white bread, you say? Never in my day..."
He says all day, but we're betting his arms'll be pretty tired by lunchtime.
There is a 100% certainty that this guy's last words will be, "Watch this!"
"Say hello to my little friend...oh God, no, I'm sorry Enrique, I wasn't talking about you, I meant my gun. Oh man, that really came out wrong. Look, just forget I said it, okay?"
"Goddamn it, Steve, you told me this was going to be 'beach casual.'"
You can't see it, but the dog is actually carrying a Micro Uzi in an armpit holster — an oddly similar weapon to that used in the mysterious murder of Tinkerbell, the family cat, last June.
If terrorists come in here, they'll really know they've come to the wrong place! (The soup is terrible and you should see the state of the bathrooms).
Only one of these two has a measurable IQ. (It's the human. Possums are a member of the didelphimorph family of marsupials and as such are unsuited to taking verbal reasoning tests that rely on abstract thinking).
"No you can't get a Nerf gun, Timmy - you'll take someone's eye out! Here, take this Beretta 92 Compact instead."
Nothing says "good at assessing the long-term consequences of a decision" like full sleeve tats and ear stretchers.
"I'm taking a photo of all the most precious things in my life - wait, can someone get this damn baby out of here?"
The rarely seen FPS character taking a lunch break.
For conjoined twins Greg and Arthur — one of whom is against guns, the other fiercely pro-NRA — life has become a living nightmare.
It's a proud day when a young hunter shoots and kills his first American flag.
"This is my home, and I will defend i...wait, this ain't my house."
Now that's just not safe (that child shouldn't be allowed anywhere near those plastic bags.)
"I've spent the entire furniture budget on guns, so we'll just have to take turns with the chair. And the food."
"Hey doc, I keep having these 'shooting' pains, do you have anything for that? Haaa, I'm just kiddin'. People always say I should do stand-up, you know."
This is an important lesson in how not to hail a taxi.
The new G.I. Joe movie looks terrible.
Thanks to Smosh, Liberal America, and Guns Save Life for some of the images in this gallery.
Liked this? See 25 photos that prove Florida is just the worst, or see why Republicans photoshopped with dildos instead of guns is mankind's greatest accomplishment.